November - december 2000...

COKTAIL JET

MAIN
PERFORMANCES

DUBOIS SIRES


BUVETIER D'AUNOU
31/12/2000 - BUVETIER D'AUNOU is the new King of the French Sires with 22 055 270 FF in front of Viking's Way 17 477 485 FF and Jet du Vivier. COKTAIL JET gets closer : he is 8th right behind AND ARIFANT.

CYGNUS D'ODYSSEE devours the end of the century with Jardy and Idéal de l'Iton, perfect winner, today, of Prix Emile Riotteau (Scm.). A day before being 3, the 2-y-o's Kaisy Dream (EXTREME DREAM), Katiche Wood (COKTAIL JET) and Kasting du Bourg (by Esotico Star, recently sold, Sire at Haras des Cruchettes) take the three first places of a good race, Prix de Deauville, at Vincennes.

24/12/2000 - JARDY frankly wins Prix de Vincennes (Gr.1), Jenko, a bit dominated uphill, ends his course brightly at the third place. Already crowned with his first crop by the success of Idéal de l'Iton, CYGNUS D'ODYSSEE now appears as one of the best french standardbred Sires. It 's a beautiful revenge for this horse, who was so close to victory in the main classic Prix de Cornulier, some years ago.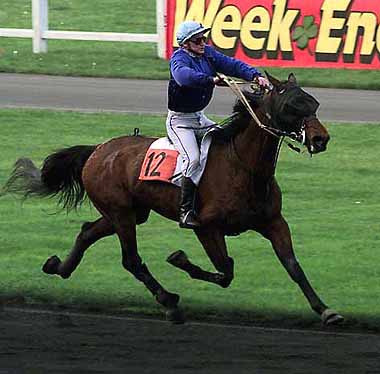 JARDY : a great winner of the classic Prix de Vincennes (Gr.1).
Picture APRH
23/12/2000 - Prix Une de Mai (Sc.) : Kiss Melody wins, Key des Brouets is a close third. Both are by EXTREME DREAM , impressive first crop Leading Sire in France in 2000.

16/12/2000 - Prix Philippe du Rozier (Scm.) : Idéal de l'Iton (CYGNUS D'ODYSSEE) frankly dominates Critérium des Jeunes 99 winner Iatka Bocain and adds a new semi-classic race to his honours list.
In less than 15 days, BUVETIER D'AUNOU will become the new First French Sire for the first time.
Three of his sons rose during the first weeks of the winter meeting.
Grand Farceur, five wins in a row (today : Prix de Strasbourg - 2 100 m aut. - 1' 13" 8).
Isério, again impressive in Prix de Reims, will soon race against the best "I's".
Gobernador, again lovely in a lonely run thursday in Prix Auguste François, now finally belongs to the mounted trot leaders.

14/12/2000 - December 14, Hasard Lavec, a young brother to Full Account and like him, very fast in the final meters, has won Prix de Belfort. On the former saturday, Grand Farceur (four consecutive wins) and Isério (Prix de Picardie), both winners by BUVETIER D'AUNOU, have impressed at a very interesting level. To be followed carefully!

JAIN DE BEVAL offers a first Critérium to the Sire COKTAIL JET.
Picture APRH
10/12/2000 - Critérium des 3 Ans : JAIN DE BEVAL (COKTAIL JET) brilliantly defeats Jolmeto, Jorade du Fruitier, Jardy (CYGNUS D'ODYSSEE), Jasmin de Flore and Jenko. Juliano Star (BUVETIER D'AUNOU) was a close second before being disqualified.
Jenko, new Sire at Haras de Fresneaux in 2001, will be featured on this site in the next days.

7/12/2000 - Gobernador (BUVETIER D'AUNOU) impressive in Prix Paul Buquet (Int. - 1' 16" 8 - 2 700 m).

5 et 6/12/2000 - Kaisy Dream (EXTREME DREAM), 3rd Prix Ourasi, Kermitt (COKTAIL JET), close 5th in the same race, and Kefie Perle (DEFI D'AUNOU), 3rd Prix Vourasie, the next day, are improving the level of their preformances... ten weeks away, now, from Critérium des Jeunes (Gr.1).

30/11/2000 - Ten days before Critérium des 3 Ans (Gr.1), COKTAIL JET is twice second with Jessamina in Prix Queila Gédé (Sc.) and Jain de Béval - beating Jardy (CYGNUS D'ODYSSEE), third - in Prix Jacques de Vaulogé (Sc.) .

25/11/2000 - Still leader of the french Sires, BUVETIER D'AUNOU efficiently wins two main races at Vincennes with his promising sons Gobernador and Grand Farceur (1' 13" 9 - 2 100 m - autostart)..
Earlier, Kiss Melody (EXTREME DREAM) remains unbeaten after her fourth race.

2/11/2000 - Opening of the Paris-Vincennes Winter Meeting. Jardy (CYGNUS D'ODYSSEE) wins the Prix Louis Tillaye (Scm.), this time defeating Jenko.
IN LOVE WITH YOU efficiently comes back! He is placed fourth of Prix de la Drôme.

Main performances...
PAGE 6
Summer - Fall 2000

PAGE 8
Winter - Spring 2001

PAGE 5
Spring 2000

PAGE 4
Winter meeting 99/2000 at Vincennes

PAGE 3
From march to november 1999

PAGE 2
Winter meeting 98/99 at Vincennes
---