Fall 2001...

COKTAIL JET

DUBOIS SIRES

Main performances


BUVETIER D'AUNOU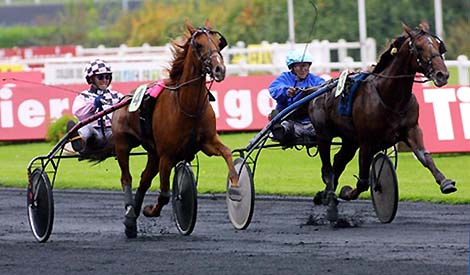 Highlight - september 2001 : Prix de l'Etoile (Gr.1)
Kiss Melody and Kaisy Dream
Both are by EXTREME DREAM, the Leading French Young Sire.
Picture APRH
Latest - Breeding season 2002 : KINDER JET will stand at Haras de la Perrière and KAISY DREAM will join EXTREME DREAM at Haras de la Brosse.

30/12 : Beloved by her breeders, Let's Go Darling (COKTAIL JET) frankly wins Prix de Deauville. Fourth in Prix Emile Riotteau (Scm.), Jardy (CYGNUS D'ODYSSEE) started twenty-five meters a trio of beautiful and excellent mares Jerka de Janeiro, Jaflosa Gédé and Jalencia. Gallant horse, he was behind at the end...

22/12 : Prix Une de Mai (Sca.). A disastrous start and Liberté, Lara du Goutier, Like A Nevele and Life Is Good were cantering in the first two hundred meters. Nevertheless, Léda d'Occagnes (CYGNUS D'ODYSSEE) has shown an high potential to win easily the first semi-classic race given to the fillies.
At 1 : 15 PM, Kiwi (COKTAIL JET) had dominated a serious Kangone (DEFI D'AUNOU) in the Prix de Château Chinon.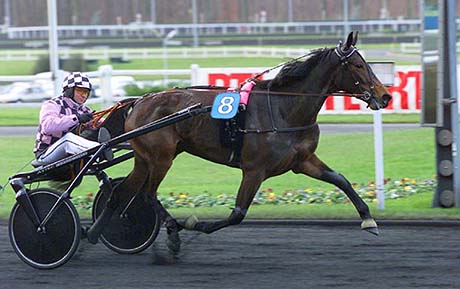 LEDA D'OCCAGNES, an important win in Prix Une de Mai (Sca.).
Picture APRH
17/12 : And the beat goes on! Each day brings to us blue chips for tomorrow. Today, impressive in the last turn, L'Aunou du Fier, a filly by BUVETIER D'AUNOU, keeps a small advantage on Life Is Good, a filly by DEFI D'AUNOU, in Prix des Hortensias. Third, Let's Go Darling, by COKTAIL JET, was very efficient in the last two hundred meters.

15/12 : A reallly promising Kaiser Sozé (AND ARIFANT) - already - wins a third race of the winter meeting, defeating Kiwi (third) (COKTAIL JET), a former good winner.

10 and 12/12 : Among the excellent horses bred by Jean-Pierre Dubois, then sold during their career, two champions particularly succeeded, DREAM WITH ME and GOBERNADOR. Showing off again, their talentuous sisters Kangone (DEFI D'AUNOU) and Ingala (BUVETIER D'AUNOU) have frankly won at Vincennes, respectively in Prix de Cancale (2 700 m) and Prix de Montmirail (2 100 m).
Second beaten a nose in Prix des Giroflées, Lucky d'Hilly (COKTAIL JET) definitely possesses a terrific final.
Lucky d'Hilly belongs to the horses featured for sale.

9/12 : Champions have shone... Excellent second to KESACO PHEDO, KAISY DREAM completes a spectacular success for the Wildenstein family in the Critérium des 3 Ans (Gr.1).

7/12 : L'Enjôleur (BUVETIER D'AUNOU and the excellent Fiesque) easily seduces Vincennes.

5/12 : Limited Edition (CYGNUS D'ODYSSEE), always at her best, is placed second to Lara du Goutier, in Prix Vourasie, the first main event in the selection of the fillies.

3/12 : Many promising horses have impressed this afternoon, particularly a colt and a filly by COKTAIL JET, both winners, Kiwi and Let's Go Darling, the lattest dominating L'Aunou du Fier (BUVETIER D'AUNOU).
The Leading French Sire in 2000 had earlier seen his Hawaïan Melody at her best.
Then Kita Dream by EXTREME DREAM won the last race.
A perfect journey!!!

30/11 : Qualifications : 1' 16 for Leader du Bouquet (AND ARIFANT) and 1' 17 for Lutin du Bouquet (BUVETIER D'AUNOU), both trained by Jean-Baptiste Bossuet for Ecurie Ténor.

29/11 : KAISY DREAM placed second, beaten at the end, to Késaco Phédo in Prix Jacques de Vaulogé (Sca.).

24/11 : Is Liberté (BUVETIER D'AUNOU) scared of darkness? She wins in the daylight, after a cupple of night faults. Today, she defeats Like A Nevele, by DEFI D'AUNOU, second but disqualified, and Leda d'Occagnes, by CYGNUS D'ODYSSEE, in Prix des Bégonias. Three races later, his half-brother, the promising Jest (1' 16 3 - 2 850 m) is an excellent second in Prix des Alpes.

22/11 : Jardy (CYGNUS D'ODYSSEE) resists to many attacks along the way, but must surrender himself to Jairo des Veys, often his main challenger, who beats him in the last meters of Prix Jacques Olry (Scm.) at Vincennes.

20/11 : A few days after Kourgana and Kelle Emotion, another filly by DEFI D'AUNOU, this time a 2-y-o, Life Is Good, shines on the dark track of Paris - Vincennes.

17/11 : The long and winding road to Prix d'Amérique starts today. Jain de Béval (COKTAIL JET) travels too long on the outside, but still, is a nice fifth, at 4, in Prix de Bretagne (Gr.2) against his elders Insert Gédé (1' 15" 6 - 2 850 m), Glissando, Grassano and Galopin du Ravary.

15/11 : A nose for KAISY DREAM, dominating Kaiser de Mormal and Kiss Français in Prix Abel Bassigny (Sca.), but he had 25 meters of disadvantage at the start.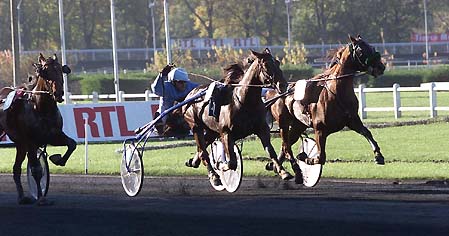 KAISY DREAM resists to Kaiser de Mormal and Kiss Français, dead-heat.
Picture APRH
6/11 : Two blue chips for the future semi-classic races of the winter, the dancer Kelle Emotion (DEFI D'AUNOU) and the daughter to champion mare AUTOUR D'AUNOU, Kundera (COKTAIL JET) have frankly dominated Prix Gyptis (1' 16 - 2 200 m) during the first evening of the meeting.

5/11 : He is getting better and better... Jardy (CYGNUS D'ODYSSEE) is third (2 725 m - 1' 15" 6) in the main event of the Opening Day of the Paris - Vincennes Winter Meeting, Prix Octave Douesnel (Sca.). Today, he was starting twenty-five meters behind the leaders.
By the same Sire, Kasoar de l'Iton wins the good race for 3-y-o's (monté) and the 2000 Leading French Sire BUVETIER D'AUNOU brings home "the very first" with Jessie Jet.

30/10 : Limited Edition (CYGNUS D'ODYSSEE) is placed second in Prix Marcel Dejean, first main event for 2-y-o's (fillies).

17/10 : Good winner with Good Atout, the night before at Vincennes, BUVETIER D'AUNOU sees his Liberté, flying on the Enghien' s track (2 250 m - 1' 17" 9).

02/10 : Will EXTREME AUNOU follow the stairway to heaven drawn by his famous half brothers BUVETIER D'AUNOU and DEFI D'AUNOU? His Leader de Monchel is an impressive winner against good colts at Vincennes.

30/09/01 - Prix de l'Etoile (Gr.1). Kiss Melody defeats Kaisy Dream. A new consecration after the Prix Capucine for EXTREME DREAM.

Main performances...
PAGE 8
Winter - spring 2001

PAGE 9
Summer 2001

PAGE 7
November - december 2000

PAGE 6
Summer - fall 2000

PAGE 5
Spring 2000

PAGE 4
Winter meeting 99/2000 at Vincennes

PAGE 3
From march to november 1999

PAGE 2
Winter meeting 98/99 at Vincennes
---